Announcing the June Update for Jade Dynasty! The update is coming soon, disciples, and this blog is your first sneak preview.
The June Update will include a titanic Alliance PvP mode, the new stat-boosting Charge Orb system, and a number of smaller changes. Get a closer look with this blog at the Charging Orbs, and how they'll be increasing your CritStrike, Attack Power, Skill Accuracy and more.

When you've collected six common or advanced orb beads, a single stat-boosting orb can be crafted, just right-click on the beads or the yellow forge icon on the minimap to get started. The Charging Orb that gets made is random, with six possible common orbs and six advanced orbs, each improving a different stat.
If the resulting orb is the one you want – perfect! Click Apply, and you'll get a permanent boost to that stat. If there's a different stat you'd rather improve right now, you can reforge the orb and re-roll with Orb Reforgers. Orb Reforgers for common orbs are available from the Shady Dealer or the Marketplace, and Advanced Orb Reforgers are in the Marketplace.
Unlike Bloodsmelting or Imbuing, this system is designed to increase all your stats equally. While you can choose which stat you value most, and go for those Charging Orbs in particular, each of the upgradeable stats has its own cap. Given enough time, you can max out the bonus in every single stat.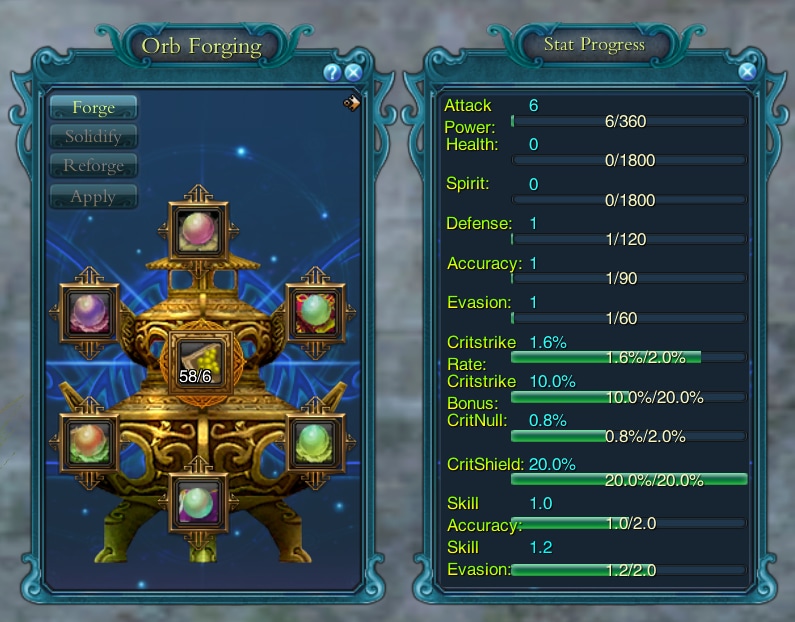 We'll reveal more about how you can get the refinery material orbs as we get closer to launch. For now, we'll just say that you should get ready to tackle some bosses, especially those in the Empyrean Lands.
Stay tuned for more information about our June update, disciples – the Charging Orb system is coming soon to Jade Dynasty!
Common orbs improve one of the following stats:
-Health
-Accuracy
-Spirit
-Evasion
-Attack Power
-Defense
Advanced orbs, meanwhile, improve one of these stats:
-CritStrike Rate
-CritNull
-CritStrike Bonus
-CritShield
-Skill Accuracy
-Skill Evasion