Here at Blacklight headquarters, we value our player community, and all the effort you put into not only playing our game, but growing our community and reaching out to other players. In honor of you, our agents, we are proud to bring you a new Player Spotlight. This week, we introduce you to a fellow agent, Screamification!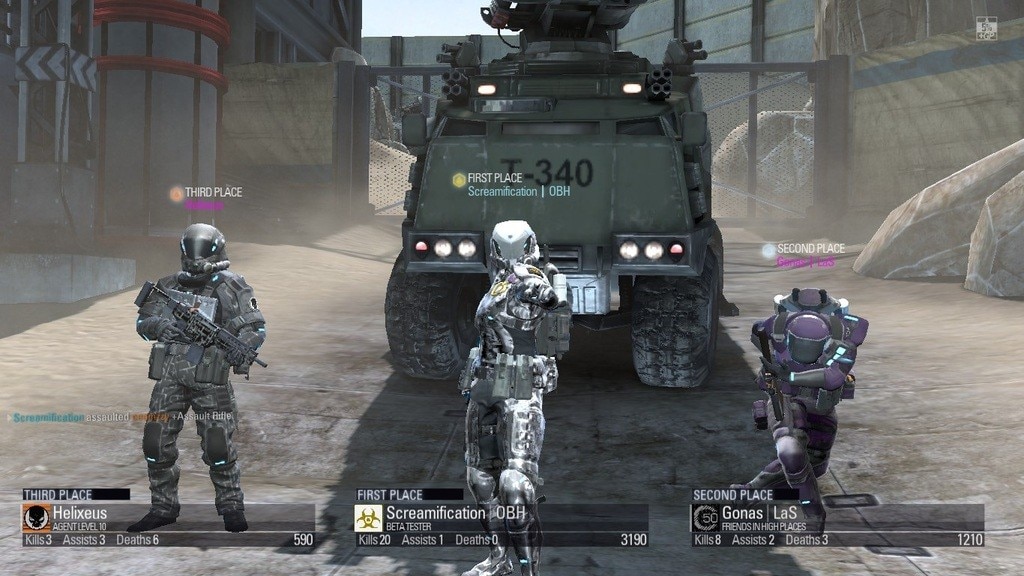 We hope you enjoy this little trip into the mind of one of our players, and keep your heads up, the next player spotlight may shine on you!
Community Questionaire
How long have you played Blacklight?
I started to play Blacklight right after the Steam launch. Back then, I was searching for a free2play first person shooter, which isn't based on pay2win. After trying some other games, I finally found BLR, which became one of my favorite games pretty quickly.
What's your favorite weapon/why?
Primary: I just love the sound of cracking skulls. So I would go with the LMG, while running around in a speed build. It is pretty funny to flank the enemy Team from behind with that combination. Furthermore, it's a challenge to use it strategically.
Secondary: My favorite sidekick would be the BLP with scattershot ammunition. Excluding the fact, that it's not useful at all in the most situations, it's damn hilarious to take out good players in a single shot.
What's your favorite game mode/why?
Deathmatch. When I started with Blacklight, DM was mostly the only gamemode I played. I freakin' love the fact, that there's the permanent possibility of a player, chasing after you. Also, it's the gamemode, where I made most of my in-game friends, including well-known players like Roger. After some intense matches with him, he asked me if I want to join WNx. That was the point where I got into the competitive scene of BLR.
What's your favorite map/why?
From a gameplay point of view my favorite map of all time is Seaport. I love it because it has many wide open areas, combined with CQC corridors.
If you are trying to find an "out-of-map" glitch, Offshore should be your first choice. Despite the fact, that it is a pretty old map, my clanmates and I are still able to find dozens of issues on it.
What games do you play when you're NOT owning in Blacklight?
I played CS:GO and Rust lately. There is the problem, that I'm getting close to my final exams. So I don't have much time to spend on games sadly.
When future humans uncover videos of the ancient Blacklight: Retribution, the religion that apparently spanned the globe, what will you be best known for?
I would be the guy who got reported continuously by other players for glitching in the early days of BL:R. Ahuehue. Later I was able to contact PWE through the Bug Report Forum. With it, I got into contact with TheyCallMeDomino, aka Sean. I asked him if we can meet in-game, so I can show him all the issues I know at once. When we spent up to 3 hours in-game, and I showed him like 60 bugs, he was amazed at the effort I put into finding bugs in the game. Afterwards, my clan has weekly sessions with Sean, where we summarize all the issues we've found.
You are the leader of a pretty unique clan in Blacklight, OBH, for those readers unfamiliar with your clan, tell us a little bit about it.
I've founded the Clan right after I left WNx. I got pretty bored of scrims, or should I say it like.. I lost the fun in the competitive side. Since I love getting out of maps and exploring the unknown parts of them, there was no other way around. It was my destiny, to create a Clan, which is focused on bug hunting. Pretty soon after its creation, I met some nice guys, who shared the same interests as me. We find like 20 issues a week.
In addition to being a bug hunter, a little bird told me that you are a little bit of a musician. Tell us a little about that.
Well, I started playing guitar 3 years ago... and there's not really a special thing about it. But I'm entertaining other players in Team-Speak or mumble.
How often do you play versus bug hunting?
That would be ... hmm… I spent like 70% of my in-game time in Bug Hunting.
There are still so many undiscovered issues, which haven't been found yet.
Our Bug Reports is a great tool for players to use when reporting issues within the game, can you give some pointers to players who may be reporting for the first time?
If you find any issues in a game, report them. You can open a ticket on the website or report the bug in-game. A basic rule is, that it's necessary to know, how to reproduce the bug. If this requirement is met, PWE is able to hand the issue over to Zombie easily.
How do you feel when a new patch comes in and some of the issues you've discovered have been fixed?
PATCHNOTES \\ *It is no longer possible to exit the playable area in OffShore.
*5 minutes later*
Me: "Nope, just found a new way. ahue."
Are there any gaming tips that you might be able to share with new players who might be playing BL:R for the very first time?
Pressing "v" activates HRV... and... They should work on their movement. Having a constant map-overview is the most important thing in my opinion.... and… Nope that's it. That's all I'm able to share.
Okay, I know that everyone has been dying to know, what is your favorite candy and why is it so awesome?
Every type of German candy. Germany has many excellent candies that utilize the unique combination of citrus and spice. Also I really love "Ritter Sport" (German brand). They continue to really surprise and delight me with the new flavors, and the classic flavors, that their chocolate bars have.
Thanks for reading up on our latest Player Spotlight, join us next week for more, and watch out in game for your chance to become our next Spotlight Player!
~CaptainSmirk