Here at Blacklight headquarters, we value our player community, and all the effort you put into not only playing our game, but growing our community and reaching out to other players. In honor of you, our agents, we are proud to bring you a new Player Spotlight. This week, we introduce you to a fellow agent, KawaiiKate!.
We hope you enjoy this little trip into the mind of one of our players, and keep your heads up, the next player spotlight may shine on you!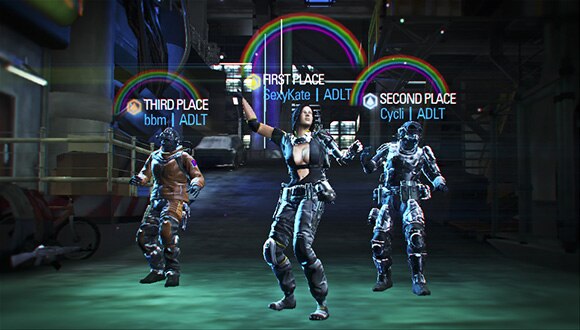 Community Questionnaire
How long have you played Blacklight?
Hi I'm Kate and I started playing Blacklight during BLR's Steam launch. So I guess I've been playing for about a year and 5 months.
What's your favorite weapon/why?
Currently, my favorite weapon is the Bullpup Full Auto. It has the most accurate hipfire in the game and it's very effective when used with a speed build armor. I enjoy running into a room filled with enemies, strafing around everyone while they aim down their sights and run out of mousepad trying to get a bead on me.
What's your favorite game mode/why?
After playing UT99 on Facing Worlds, CTF has always been my favorite game mode. I like the tension of waiting to respawn so I can chase down their flag carrier before they can score. I also like this gametype because there is no kill limit; the highest I've ever gotten was 73 kills on CTF Helodeck. Plus I enjoy the occasional teamwork
What's your favorite map/why?
24/7 Pure Seaport is my favorite kind of server. The map has enough variation to allow sniping or CQC, and roomy enough to allow a few cheesy hardsuits. Plus all of the the gametypes are fun on Seaport, especially CTF. But I usually go for a dive in the ocean and try to swim away when S&D comes up; it's the only reason why Seaport isn't as popular as Helodeck. Please remove S&D from Pure Seaport!
What games do you play when you're NOT owning in Blacklight?
Left4Dead2 with BLR heroes mod from the Steam Workshop. It's like I'm playing Blacklight with flashlights, but the guns aren't customizable and I can't HRV. Battlefield 4 with Day1 Gamestop DLC & $50 Premium Membership. Just kidding I don't support EA. Anyways, I'm really looking forward to playing Metal Gear Rising on Steam!
When future humans uncover videos of the ancient Blacklight: Retribution, the religion that apparently spanned the globe, what will you be best known for?
Hopefully I'll be known for my custom HUD layout. It's very satisfying to load up someone else's BLR youtube video and see them using my hud, and it's even cooler if they've modified it further to suit their needs. You can find the HUD on my youtube videos.
You've created for some pretty amazing gameplay videos, do you have a background in Video Editing or design?
LoL thanks. I picked up the basics on video editing and design while in college. But everything else I had to teach myself from following tutorials or googling for solutions. Right now, video editing is just one of my hobbies and I still have much to learn and improve upon.
What is your creative inspiration when making some of these videos?
I get a lot of creative inspiration from Hollywood Sci-Fi movies (Star Trek, Tron Legacy) and from Japanese anime (Ghost in the Shell, Evangelion Rebuild). Sometimes I try to recreate the look or feel from those movies. Other times I take a popular element from another videogame and apply it to my Blacklight videos. For example, I took the 360 No-Scope idea from CawaDooty and made a parody video where I attempt 360 spin shots with an AMR sniper rifle. I hope you like it!
Briefly walk us through your process when trying to make one of your videos.
Get an idea or concept
Capture footage
Cut and edit said footage
????
PROFIT!!!
What kind of programs do you use? Obviously you're not just using movie maker.
Shadowplay is the best program for capturing those "OMG NO WAY did you see that" kind of moments. Its a must have for youtubers that want to capture the moment and create more than just boring Let's Plays. Sony Vegas is my current editing software. I recommend it for beginners because the built in tutorials are very easy to learn. Magic Bullet Looks is used to color correct and add J.J Abrams or Bayformer visual effects that we all love/hate so much.
You show a lot of skill in these movies, asking around, a lot of people agree you're one of the best pub-stompers in the community, have you ever thought about getting into the competitive scene?
Before I started playing BLR, I was in the competitive scene for Tribes Ascend and did pretty well as a sniper, but then I realized that I'd have more fun making videos and that practicing for hours to perfect my technique or strategy just isn't my thing. I never really wanted to get into BLR's competitive scene; I'm kind of a casual in that respect. Oh and I'm probably too old for fps esports; my reflexes just aren't what they used to be lol.
Looking at your portfolio, you also have a lot of hacker busting videos, you're a strong supporter and contributor to the BLR Blacklist, what is your driving force behind keeping the streets of BLR clean?
I hated it when cheaters would jump in my server and ruin everyones day, so I thought it'd be funny to record video proofs of the cheaters and ruin their day for a change. Thanks to all the players that contribute to the Blacklist and the PWE employees that manage the Wall of Shame, catching a cheater nowadays is like catching a shiny pokemon; its REALLY rare. I'm really proud to be a part of the effort to clean up Blacklight.
One thing that not many people may know, you are the leader and creator of the fastest growing clan in BLR, DOGE... Why? Just... why?
Because lately I've noticed an influx of new players on the servers, and I thought it'd be nice to give them all clan tags so they won't feel too lonely ingame when they see a fellow DOGE in the server. Plus the Doge meme is popular right now on the internet; I'm mining DogeCoins on my PC, why haven't you started yet?
Do you have any tips for new players picking up BLR for the first time?
Join a helpful clan. Join ADLT if you're in the mature crowd. Otherwise, join NICE clan as they are nice and accept players of all ages. Join TOOL if you're looking to get into the competitive scene. Watch ZeroArmada's youtube videos. Then after you get bored, watch my videos. Buy a Platinum/Gold/Silver pack so you can build all the awesome weapons from my youtube videos right away!
Okay so we're dying to know if you could have lunch with any figure in history, who would it be and why?
Jason Statham. He's so handsome and I love his smile and English accent. Plus his fight scenes are always awesome, especially the ones where he takes off his shirt while beating up bad guys. 10/10 would have lunch and go for hot coffee afterwards.
Thanks for reading up on our latest Player Spotlight, join us next week for more, and watch out in game for your chance to become our next Spotlight Player!
~CaptainSmirk