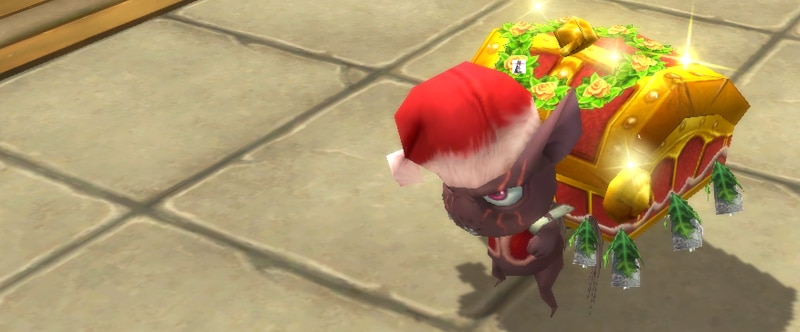 'Tis that time again to surround yourself with the holiday festivities and bring out your holiday spirit!
Start Date: Tuesday, December 9, 2014 8:00PM PST
End Date: Tuesday, December 23, 2014 7:00PM PST
First off, grab a free Christmas Mimic Transform Potion from the Marketplace! Encourage your guildmates and friends to transform with you and take a memorable screenshot. Share the image with us on our Facebook page! How many Christmas Mimics can you fit in one screenshot?

Next, check out our 100 Zen packs in the Marketplace for a chance to get some rare mounts like the King of the Grassland, Sleipnir, Arcane Relic, Dragonfish, and more! With so many options, which one do you feel will bring you the most luck for rare items?

We have a special raffle going on where each Christmas Joy Pack you purchase will give you 1 entry for a [Miracle Pet Egg] Mimic. This egg will give you one of five random mimic pets! Click here for full details!
Since it's the holidays, deck out your characters in Christmas Fashion and try a new 'do!


We have holiday deals up to 80% off!
100 Zen Christmas Back Items:
| | | |
| --- | --- | --- |
| | | |
| Christmas Knot | Christmas Gift Pack | Christmas Spirit |
Last, but not least, ride in style with the Christmas sled:

---
Register and play for free in Battle of the Immortals, Fight alongside Odin and other mythological figures to stop Ragnarok in this 2.5D MMORPG. Play as six different classes in an epic storyline with fully animated gear sets and powerful combat pets! Want more game details, screens, and videos? Like Battle of the Immortals on Facebook for more fan-exclusive content! Plus, subscribe to our YouTube channel for the latest Battle of the Immortals videos.