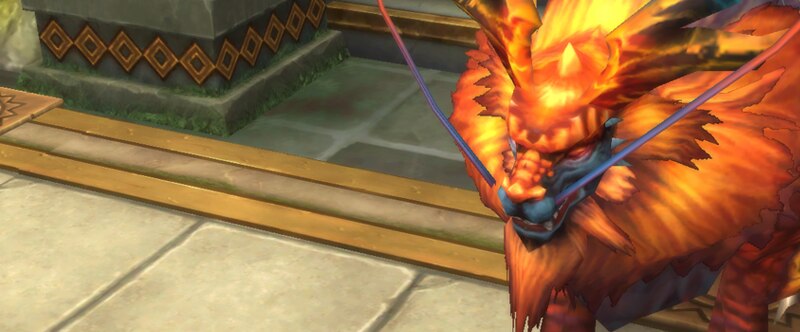 Spend Zen to earn Gem Chests, a mount, and more! Plus, enter into a raffle for a random Mimic Pet!

Start Date: Tuesday, December 9, 2014 7:00PM PST
End Date: Sunday, December 14, 2014 11:59PM PST

For a limited time, you can earn rewards by spending the Zen you already have! Of course, you can charge more Zen if you'd like, but the goal is to spend your Zen from now until the weekend. At the end of the promotion, we'll check our records and send the items to your highest level character on your account. The prizes will be distributed by early January the latest.

As you spend more Zen, you'll unlock more tiers of rewards. The Gem Chests offer an assortment of gems that will help you upgrade your gear. The final reward tier is a Flame Kirin mount!

Reward Tiers:
2000 Zen: Gem Chest Lv5
5000 Zen:

Gem Chest Lv6

7500 Zen:

Gem of Hel LV6

10000 Zen:

Flame Kirin




Rewards do not stack; if you unlock the 2nd tier reward, you will not receive the 1st tier reward and so forth.

---

As for the raffle, purchase a Christmas Joy Pack to enter for a [Miracle Pet Egg] Mimic (this egg will give a random mimic pet). Each purchase will give you 1 entry to the raffle. The more you purchase, the more entries you get into the raffle and the higher your chances are to win! Ten lucky people will win this pet egg!
Winners:
blowthis - Abyss
Zarkytoya - Atlantis
Blixy - Poseidon
RoyaleOracle - Abyss
Edowaadok - Gemini
Valtic - Abyss
UndeadGrogn - Abyss
Kollos - Gemini
vishnu_PT - Aquarius
Night_Wish - Aquarius

---

Register and play for free in Battle of the Immortals, Fight alongside Odin and other mythological figures to stop Ragnarok in this 2.5D MMORPG. Play as six different classes in an epic storyline with fully animated gear sets and powerful combat pets! Want more game details, screens, and videos? Like Battle of the Immortals on Facebook for more fan-exclusive content! Plus, subscribe to our YouTube channel for the latest Battle of the Immortals videos.