Fortifying your gear is easy with these great items.

Sale Start Date: Wednesday, October 31, 2012
Sale End Date: Tuesday, November 13, 2012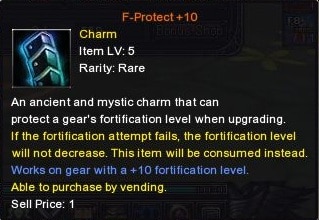 The F-Protect is specially engineered and designed to withstand and absorb the impact caused from fortification failure. Without the F-Protect, each failed fortification will drop the level of your gear. If you have F-Protects in your inventory, it will use up the item instead of downgrading the level of what you are fortifying. These items are professional grade and easy enough to use by everyone. Stock up today and F-Protect your items! F-Protect +6-10 are on sale for a limited time!