Worry free fortification made possible with the use of F-Protects! Level 6-8 F-Protects have been discounted in the Marketplace!
Sale Start Date: Thursday, January 3, 2013
Sale End Date: Tuesday, January 15, 2013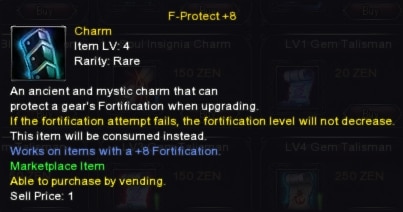 Are you constantly worrying about fortifying high level gear and hoping that it doesn't fail and get downgraded? Well F-Protects are going on sale to help alleviate those worries! Without the F-Protect, each failed fortification will drop the level of your gear, so why fortify without them? If you have F-Protects in your inventory, it will use up the item instead of downgrading the level of your gear. We guarantee that the F-Protect will prevent your gear from downgrading. In fact, we call it the F-Protect Promise!