Reuse your gems and reduce the excess ones by using Gem Talisman Level 2-4.
Sale Start Date:
Tuesday, February 19, 2013
Sale End Date: Tuesday, March 5, 2013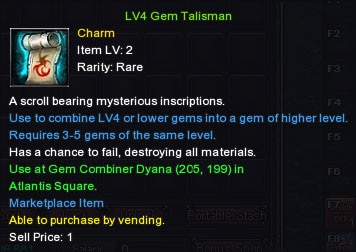 Feeling the need to recharge your gear and upgrade your gems? Gem Talismans can help! Having a Gem Talisman enables you to take gems of the same level and transmute them into higher level gems granting you greater stats for the item. Level 2-4 Gem Talisman are on sale for a limited time!