Go green and help keep Atlantis clean! Reuse your gems and reduce the excess ones by using Gem Talismans and Removal Charms.
Sale Start Date: Wednesday, July 17, 2013
Sale End Date: Tuesday, July 31, 2013
Gem Talisman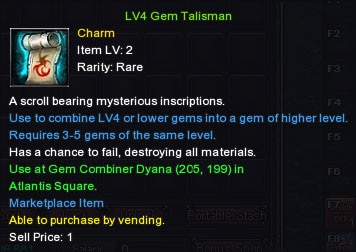 Feeling the need to recharge your gear and upgrade your gems? Gem Talismans can help! Having a Gem Talisman enables you to take gems of the same level and transmute them into higher level gems granting you greater stats for the item. LV2-4 Gem Talisman are on sale for a limited time!
Removal Charm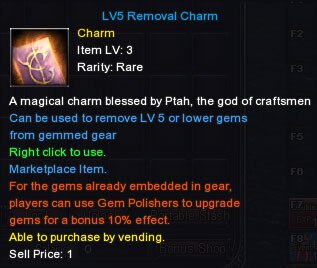 Worried about putting the wrong gem or wanting to replace one on your gear and don't know how to remove it? The Removal Charm is your answer! With the aid of the Removal Charm, you will be able to insert and remove different gems depending on what the situation calls for. LV2-5 Removal Charms are on sale for a limited time!