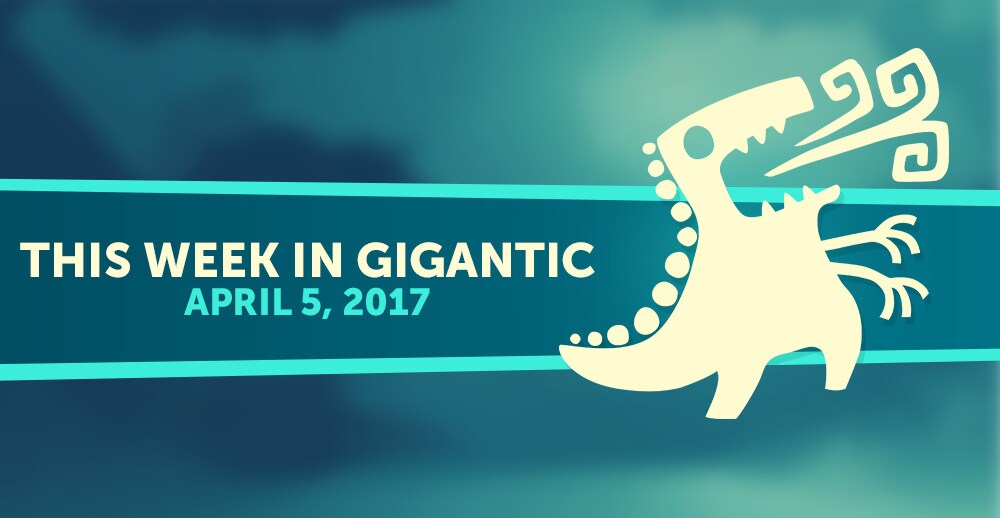 Happy April, friends! Welcome to our first (of hopefully many) development updates coming your way from the studio! These brief posts are meant to give you a behind-the scenes look at what Motiga is working on as we double-down on the advancement of the game. Right now, we're calling these updates, "This Week in Gigantic" – though admittedly only because it's the most creative acronym we could come up with: TWIG! (If you guys come up with something better, we're all ears!)
This week is a special week for the game, as it marks the arrival the final Minor Update of the Gigantic Open Beta. Don't worry; there's opportunities for hotfixes should the need arise, but the hope is that we can use the remainder of our beta testing to focus on development in the final months leading up to its launch. That's a LOT we want to tackle in a (relatively) short amount of time, which is why we'll be channeling all our collective efforts, energy, and passion into improving and polishing the game...like a super saiyan of creativity, art, programming, and bug fixes! You can read up on what this means for the game in our recent State of the Game post, where we talk more about what's on the horizon for Gigantic: The State of Gigantic, March 2017
Now with all of that said, I'm sure the question burning on most of your minds is the exact launch date of the game…unfortunately we're not quite ready to talk about it yet. There are a few important numbers jotted on white-boards and notepads around Motiga, but until we're ready to share more, we don't want to tease too much. For now, rest assured that we're on-track and committed to a final drop date for the game!
Since we're well past "brief" at this point, it's time to get down to business: what are we working on at Motiga? Here's a look at just a few of the cool things our design team has in the works:
GAME RULES
As mentioned in the recent State of Gigantic update, we've been working to refine the mechanics of the game – not necessarily to remove any of the tactical depth that we love, but to make it easier for players to learn the intricacies and depth that is there in the game! This has resulted in a ton of experiments and changes which we've put to the test in our internal builds, where we've discovered a few things we really like thus far:
Respawn Timers. When it comes to the time you spend waiting to rejoin the fight, our aim is to make teammate deaths less detrimental to your experience. In particular, our hope is to mitigate the impact that one "lone wolf" teammate who insists on diving as deep into enemy territory as possible. We don't think you should be yelling at your teammates while waiting on your countdown, so we're working on ways to improve your return to the battlefield!
Guardian powah! The Guardians should be as scary as they look, and should be allies in your fight rather than idle witnesses to your death. This has always been our intent, and we've already begun experimenting with adjustments that make the guardians a truly powerful presence on the battlefield.
Simplified Summons. It sucks when someone summons the wrong creature at the wrong time; summoning should always be beneficial to your team, which is why we're experimenting with changes in the way you summon your battlefield companions. In our latest tests, we've been particularly focused on adjusting the amount of time it takes for a creature to land on the battlefield, ideally to give them more of a fighting chance against the enemy team.

While these systems will continue evolving as we work towards the launch of the game, the basic goals are clear: to make Gigantic a better, more intuitive (and less punishing) experience for players – both new and old! There's much more in the works that we're not quite ready to share, but we'll be sure to include those details in future updates as we continue to make changes to the game!
In the meantime, we want to hear about your experience with each of these areas! You can post your own thoughts about playing with the game's respawns, guardians, and summoning over on the official forum, where we'll be interacting with you:
HERO BALANCE
As with any competitive game, the balance of heroes (and all the interconnected mechanics and systems) is a constant and complicated endeavor. Heroes will always be evolving – both now and through the official launch of the game – though some will be receiving some special attention much earlier than others.
In particular, Tripp is going to be at the forefront when it comes to major changes. While we absolutely want her to feel like a viable and powerful assassin, we do recognize a few notable pain points when it comes to her kit:
Tripp's focus attack, Bladestorm, doesn't offer much counterplay - particularly considering the fact that Tripp is totally invulnerable while focused.
Tripp is able to cycle through every one of her skills in less than a second. (Trust us; we've tested it!)

These two concerns highlight the biggest issues when it comes to understanding her power. For newer players, the speed at which she can cycle through her abilities often leaves them amiss of what blue-and-white blur just turned them into paste. For veteran players, the fact that her focus is nigh impossible to counter and is essentially a "get out of any situation free" card feels…well, unfun.
Before the end of the beta, we hope to not only revisit the speed at which she can chain through her skills – forcing a Tripp player to be smart about when to use her skills and how to chain them for optimal effect – but will be revisiting her focus ability and what it ultimately brings to the battlefield. The goal: to finally get her to a place where she's not only fun to play, but fun to play against at all levels of play!
MORE TO COME!
This is just small snippet of our current work at the moment, but our goal is to keep you up-to-date with the latest development challenges as we go. Stay tuned for more regular updates from the team! In the meantime, keep the feedback coming: join us on reddit, the official forum, or even tweet at us as you play; we're always looking for ways to interact with you about the game we all love!
See you on the airship!